Setup
From Chocolate Doom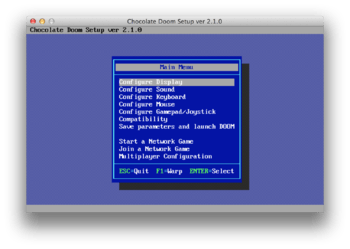 The setup program is Chocolate Doom's configuration utility. Reproducing the look and feel of the original Doom setup program, it provides equivalent functionality, with support for some of Chocolate Doom's more advanced features. It is based on libtextscreen, a Chocolate Doom library that emulates a DOS text mode display.
The setup program is menu-driven. The main menu provides configuration options for several of the main features:
Launching games
[
edit
]
The setup program can be used as a basic launcher for playing games, for both multiplayer and single-player modes.
Difficulties in running and playing multiplayer games may be caused by firewalls on the server machine or port-forwarding issues behind NAT. See the Multiplayer page for more help.